SCREENPRINT SERVICE FOR PAPER & TEXTILES
As well as my own art practice I also run a bespoke screen print service service based in Hackney, equipped to produce high quality yet very affordable water based screen prints on paper or fabric. I provide a gallery standard screen printing and editioning service, working alongside the client to turn initial ideas into beautifully finished print editions whatever your experience.
I work in collaboration with individuals to produce print editions for artists, designers, fashion makers and for galleries alike.
I have considerable experience in screen print techniques & have studied the process extensively with Royal College of Art Print as well as working as a technician for a number of years with leading London based Screen Printers, K2 Screen. I've worked with experienced artists & fashion makers as well as graduates and beginners.
I specialise in printing finest quality art prints, posters, record sleeves as well as high end stationery such as wedding invitations and business cards. My clients include a range of established and emerging artists, illustrators, graphic designers,fashion makers and musicians.
As a small business I offer a personal service and enjoy working closely with our clients through each stage of the process. From an initial consultation through to choosing inks, paper and print techniques, all of my prints are produced meticulously by hand, one by one.
I print with quality, environmentally friendly, waterbased inks and keep a range of specialist inks including metallic, glow in the dark and fluorescent.
I work closely with John Purcell Paper and can advise and order a good selection of papers for our clients and can also source a large range of different weights, sizes, colours and finishes upon request.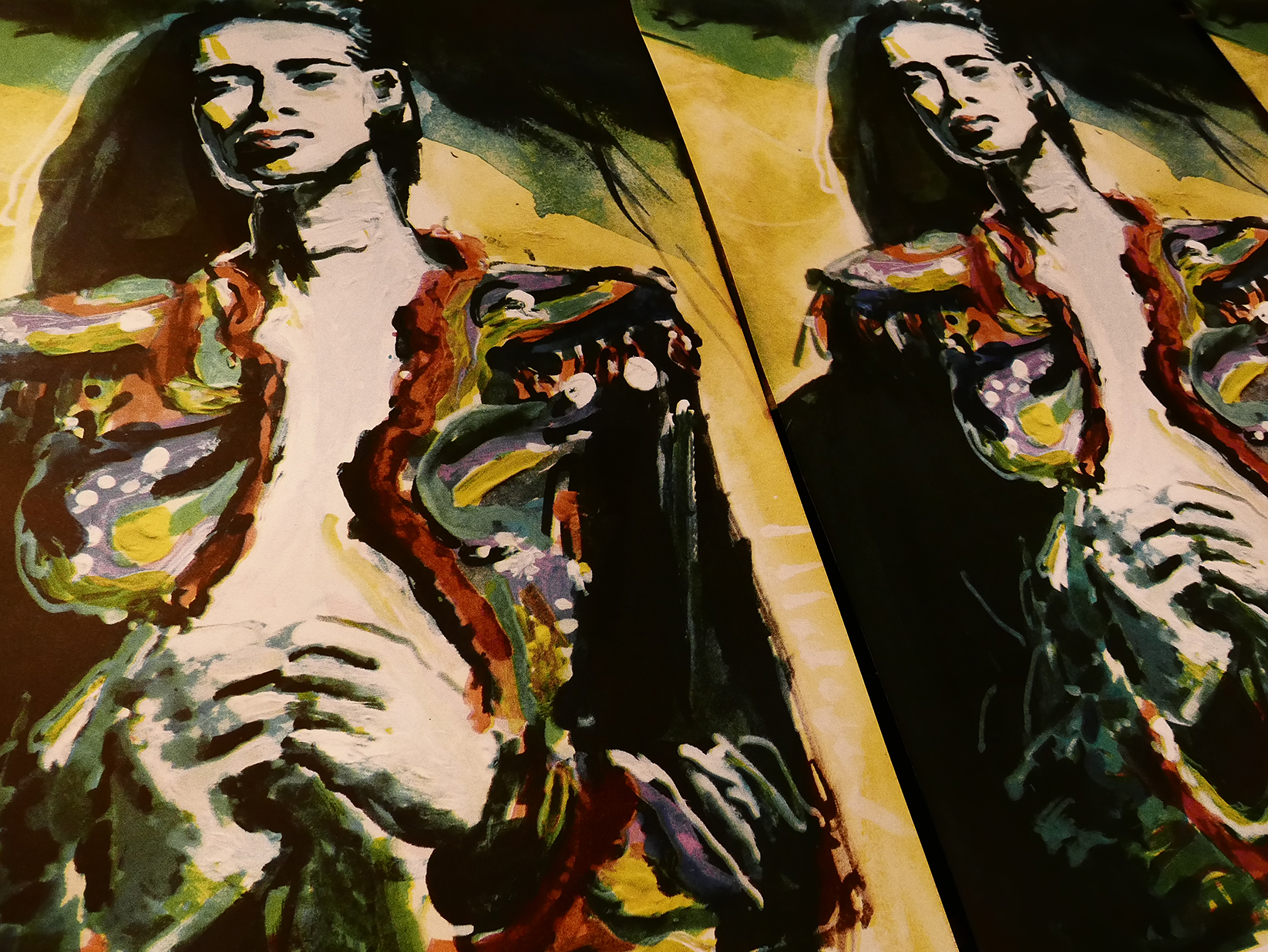 The printmaking process usually starts with hand-made or photographic images that we transfer onto screens ready for printing. Artwork may be drawn or painted on to transparent film. It may be hand-cut from paper or masking film or it may be any type of digital image: a photograph, a scan of a painting or drawing or an image created in the computer. Our service is flexible and we do our best to accommodate the needs of all of our clients. If you have something that you're interested in having screen printed, please do get in touch. I aim to make the transition from artwork to finished article as simple as possible.
ARTWORK SUBMISSION:
If you already have your artwork, you need to send it to me, preferably as a PSD, PDF, AI or TIFF file at 300dpi. I will then send you an estimate for your project as a whole.
ARTWORK SETUP:
If you're not sure how to format your artwork as above I can set up your project for you for a small fee. Send your artwork in whatever filetype/size and i'll let you know if there is any additional artwork preparation I need to do. Please email and I can discuss your requirements in more detail.
CUSTOM DESIGN:
If you require artwork to be designed, whether for a poster, record sleeve packaging, invites etc.. I can create a unique piece for you. I specialise in graphic design and illustration, from hand-drawn artworks straight through to high detail Photoshop tablet creations. I can design anything from simple lettering utilising unique fonts, straight through to full scale album artwork, or screen printable gig posters.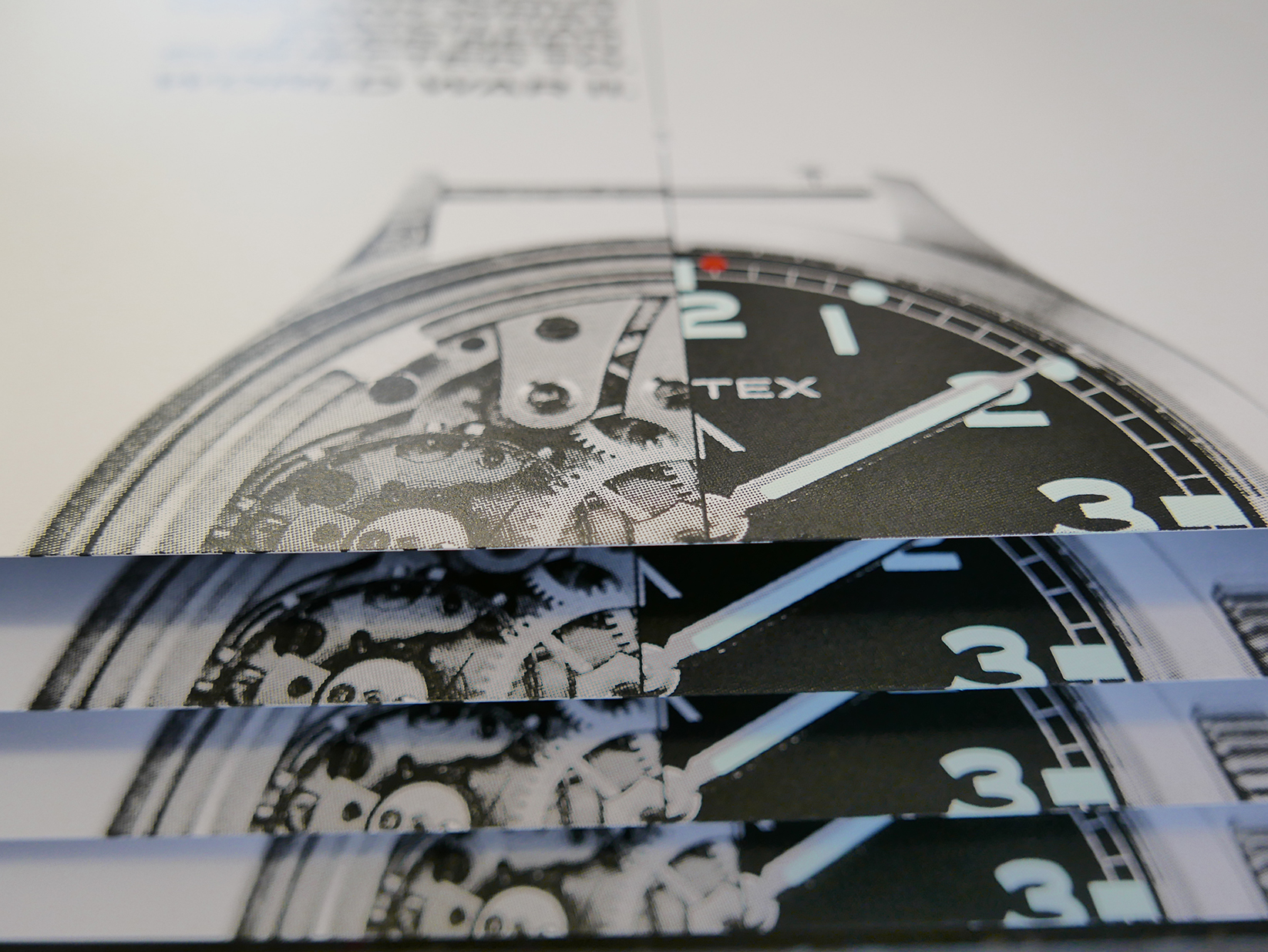 Screen printed graphics are some of the most beautiful promotional and collectible pieces brands can make. Brands, benefit from eye catching art that promotes your message while giving consumers something more than plain advertisements to look at.
You can use screen printed posters to elevate your brand by creating art instead of standard promo flyers.
Screen Printed Posters are a unique and interesting way to create both art and promotional materials. Expand your design by experimenting with different types of inks and paper stocks and other upgrades to create truly one of a kind pieces.
Screen printing is the best option for designs that require a high level of vibrancy. The ink in screen printing is applied thicker than digital printing, which results in brighter colours.
Screen printing really is unrivalled when it comes to flexibility. You can print on almost anything as a surface (as long as it's flat) including plastic, fabric, metal and wood to name just a few meaning the design you create could be turned into signs, office stationary and much much more!
Screen printing is also really flexible when it comes to product shape making the process even more hassle free if you are looking to print designs onto slightly more obscure shaped products.
Gradients can be achieved with screen printing and will leave you with a crisp, sharp design. Screen printed designs are typically much more durable than the likes of heat press or digital designs which is due to the technique laying down thick layers of ink which are absorbed by the material, leading to enhanced durability, especially when a product will be under direct contact with sunlight, often causing them to fade which is a common characteristic of digital printing for example.
Four colour process screen printing takes some additional time, knowledge and setup, but this process offers artists and designers opportunities to create more painterly, subtle and complex artworks and photographs.
4 Colour Process printing was developed to reproduce full-colour artwork accurately when printed on white paper. Essentially, a decent sized gamut of visible colour can be represented by printing various densities of the primary colours Cyan, Magenta, Yellow and Black.
Indeed, this typically works great on paper and on-screen,
The four CMYK colours – cyan, magenta, yellow and black – are
combined to create beautiful results with four colour process printing.
While all good screen printing begins with good artwork, quality artwork becomes even more important when printing a four colour process. It's imperative that high-resolution images are used for your four colour process jobs. I can provide this as part of the service by offering to photograph works at high resolution using a high quality Leica digital SLR.
When it comes time to print your four colour process job, you will print from the lightest colour to the darkest, so your colour order will be yellow, magenta, cyan, black. The goal with four colour process screen printing is to have the ink colours blend to create a myriad of tones.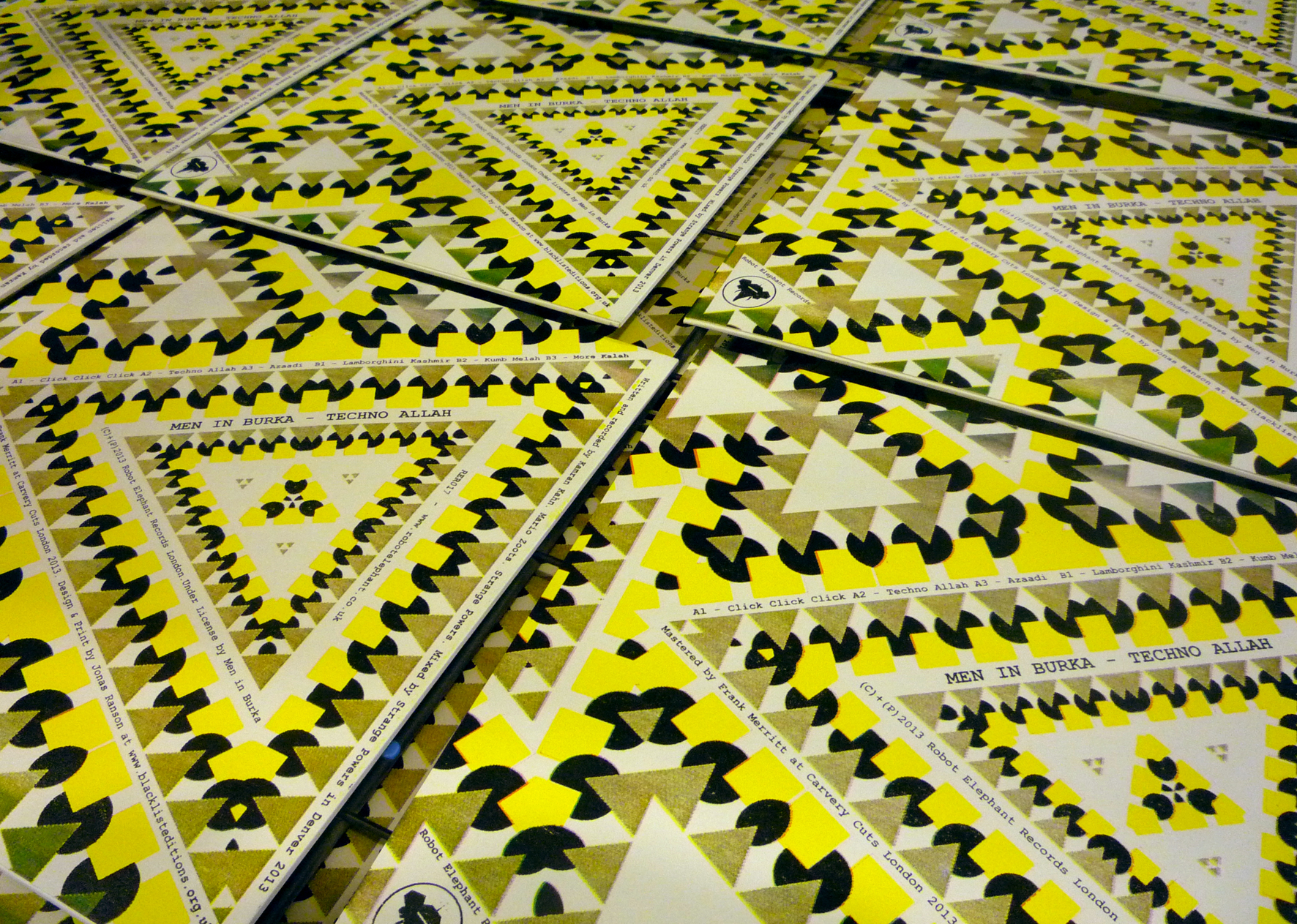 There is nothing better to compliment the physical impressions that produce the records than a hand printed record sleeve. Screen printing yields a unique and individual print quality with a real hand crafted feel that is just not obtainable with standard digitally printed options.
Vibrant colours can be produced using a full four colour build of cyan, magenta, yellow and black. This method allows for any number of colours to be printed more economically, ensuring stunning results at a fraction of the cost.
We also print in a wide range of Pantone options, as well as mettalic and fluorescent colours
Beautifully printed sleeves with high attention to detail, excellent colour matching and coverage. Perfect for detailed artwork, slick style design, and sophisticated music.
We can print sleeves in quantities from small to large, standard 7", 10" and 12" single and album sizes too.
We realise musicians and bands sometimes have a hard time finding affordable, yet professional designs to help promote their music. We can also design sleeve artwork, working up clients initial ideas and mood boards with stunning results. It needs to reflect your sound, and help create a buzz for upcoming releases.
I have years of experience with dealing with musicians, I know how musicians think and what they want, because I am a musician myself, as well as a printer and designer.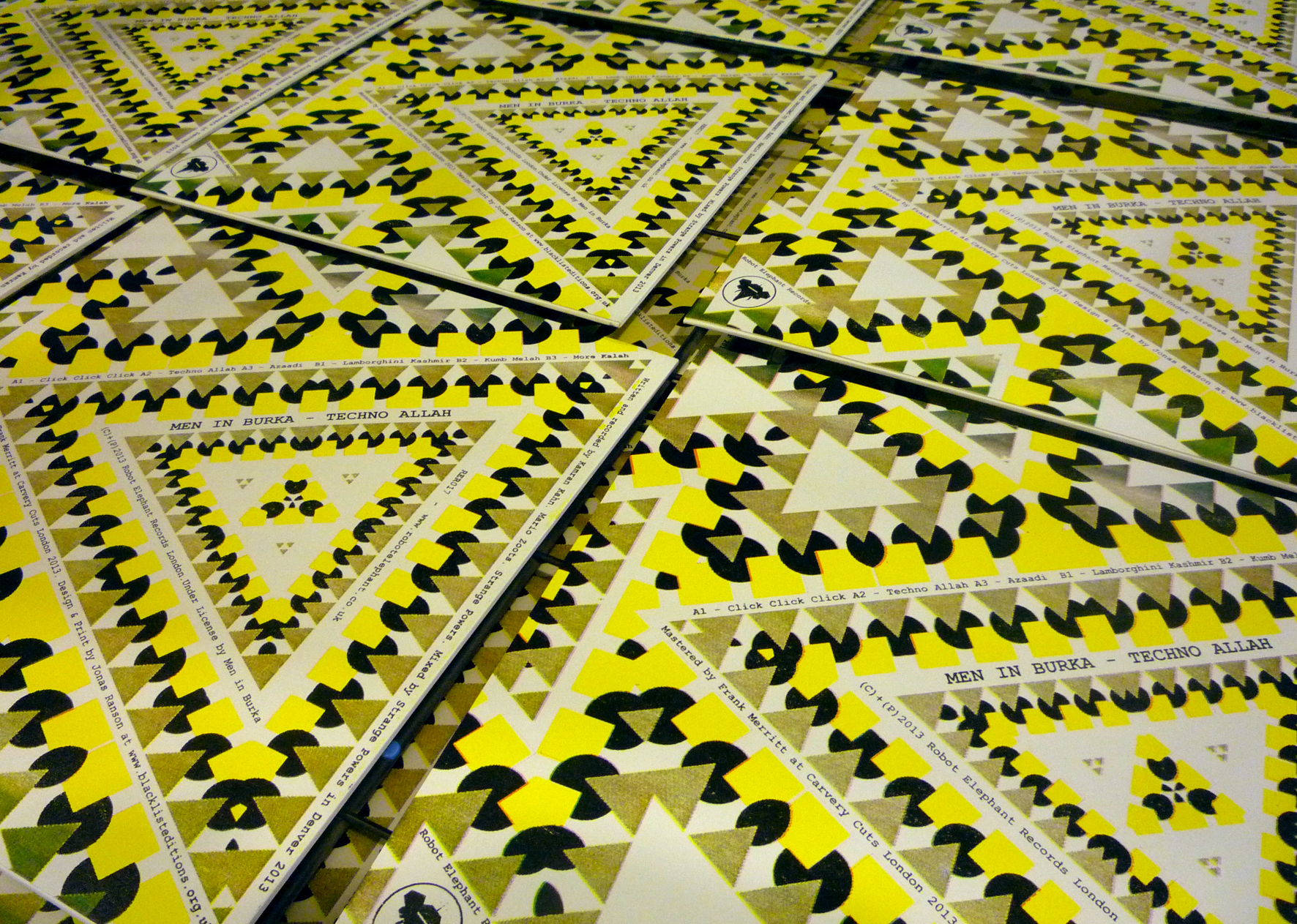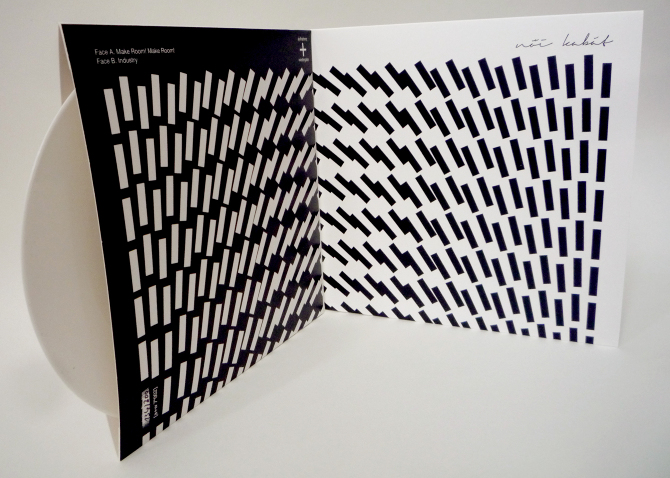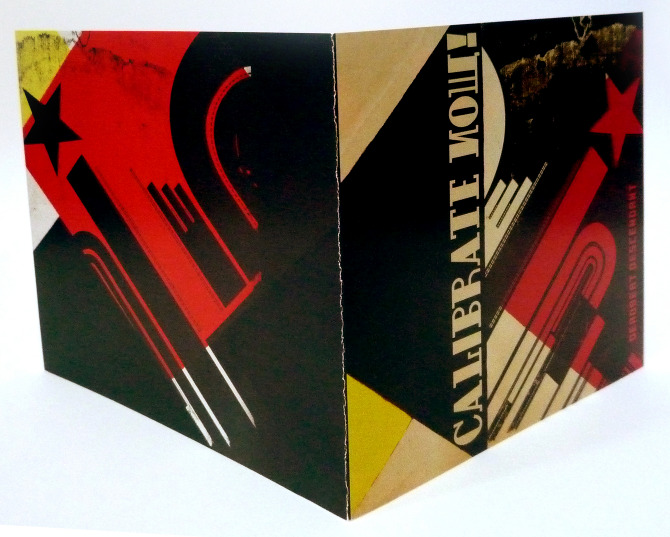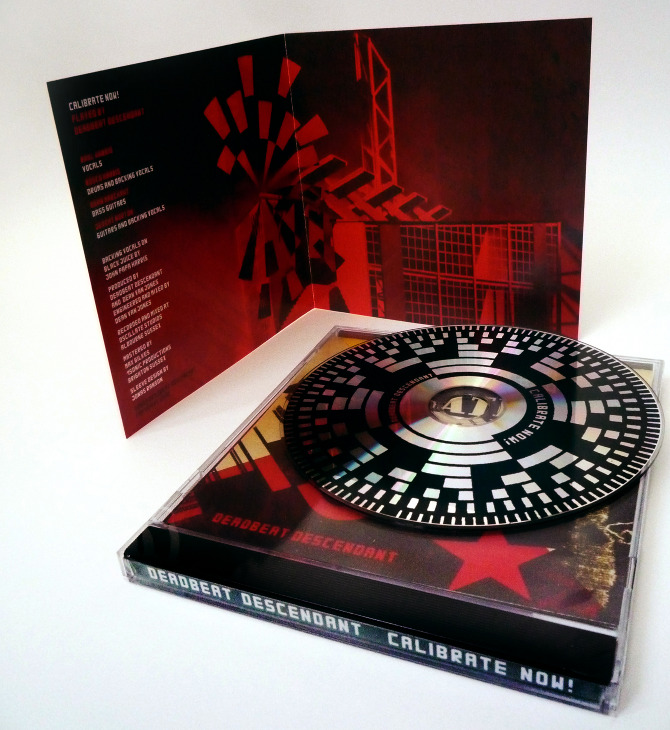 I offer a comprehensive service and advise on all aspects of textile printing, from design, artwork preparation, sampling and print production, to further contacts within the industry. Blacklist regards itself as a print facility which caters for young and emerging fashion and textile designers unable to receive the sympathetic attention they required from larger companies. I have developed successful relationships with numerous fashion and furnishing clients, ranging from students and graduates to established designers.
Textiles printing can involve accurate print placement on pre-cut garment pieces on a variety of fabrics including leather and denim, repeat patterns on lengths of fabric, T shirt and sweatshirt printing, fronts backs and sleeves as well as tote bags and customising vintage and second hand clothing.
Natural fabrics
Natural Fabrics are the ultimate choice for screen printing, as they tend to absorb the ink more readily than man-made fabrics do. Cotton and cotton blends are the most popular choice for most printers and customers as they are soft and permeable. With today's techniques and modern screen printing inks, it's possible to achieve a great result no matter what fabric you choose.
Silk
Silk provides a beautiful flat surface for a screen print, and the natural fibre absorbs ink evenly and effectively. One thing to remember is that the thinner the fabric, the less ink will be absorbed, so expect a subtler effect than on a thicker cotton or wool base.
Wool fabrics
Wool and wool blends offer an absorbent surface for screen printing, and as with cotton the higher the wool count the better. Generally the thicker the fabric, the more silk screen fabric ink will be absorbed into the fibres and the more vibrant the print will remain over time. If the fabric is chunkier or textured, keep this in mind for detailed prints. You may find you get a crisper result with a less complex design for some wool products.
Acrylic and polyester fabrics
Man-made fabrics tend to be less porous and permeable than natural fibres, so one problem can be getting the screen print ink to stick to them as well as with cotton. Fortunately there are a number of simple solutions we offer.
Jersey fabrics
Jersey is typically a cotton blend and this stretchy fabric tends to print quite well. The water based inks we use soak into the fabric for a softer and superior result.
I love the delicate color variation in a hand pulled ground, and how the screened pattern adds a subtle texture to the paper.
I believe hand printed processes make a huge difference. I believe in using our hands whenever possible. The quality of the paper, the colour, and how the pattern is printed are all equally important factors.
My service offers an opportunity to create a personal and unique surface design and wallpapers. Suitable for those who wish to have their favourite current design in a particular colour. Depending on design style and complexity, I offer a breadth of printing techniques, employing methods relevant to each design. I have used many years of experience to refine special techniques such as metallics and varnishes.